Hello again! How was your week girls? If you read my blog post from last week you know that I didn't have to go to work and this week was also free, cause apparently there was nothing to work on, so this week was also super chilled for me. I had time for myself, also on weekend I visited my family in Kaunas again. Here are some snaps from my week. Hope you'll like it!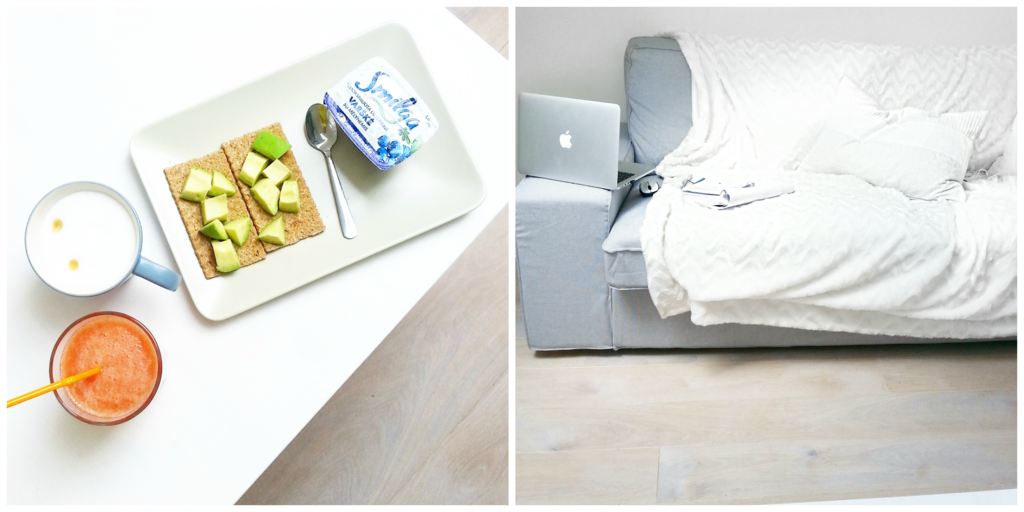 1. My morning snack on Monday (Latte, Grapefruit juices made by Dr. Oz's recipe, avocado with healthy crackers and dessert curd, which has less calories). 2. My little corner where I like to sit with my laptop and to do all the work.
1.
My outfit on Tuesday: classical black pants and a simple cardigan that kept me warm.
2.
My dinner on Tuesday: tortilla pizza. If you don't want to make pizza dough, just take tortilla and add everything you want on top of it.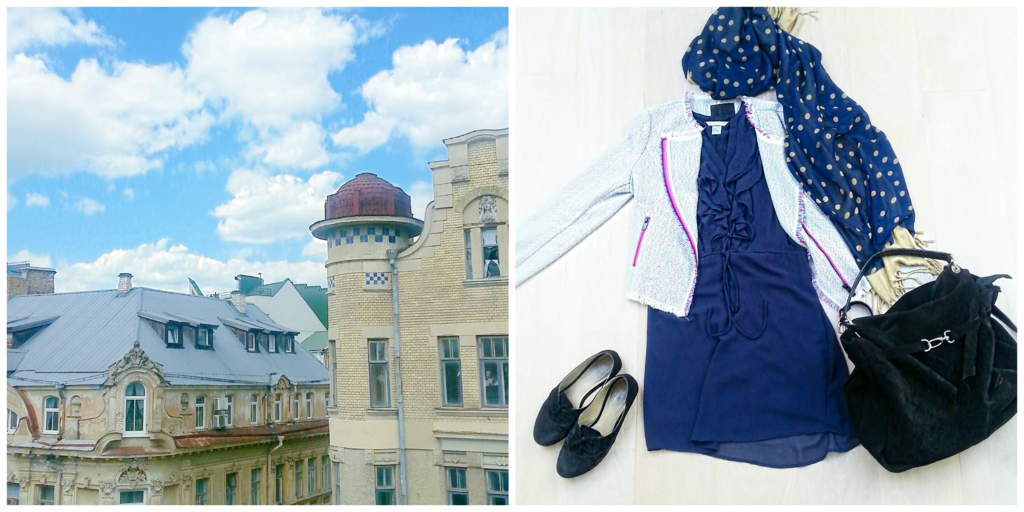 1.
The weather on Wednesday was amazing and somehow these rooftops and architecture in Vilnius reminds me of Paris a little bit. Don't you think so too?
2.
My outfit on Wednesday. This navy dress is from H&M, it's my favourite one and this fun jacket is from New Yorker.
1.
Selfie time on Thursday.
2.
On Friday I went back to my hometown Kaunas and on the weekend I also visited my Grandma and Grandpa, so I photographed these lovely flowers in their garden.
1.

– 2.

More beautiful flowers in my Grandparent's garden. I love love love succulents, they are my favourite plants and I really want to buy some and grow them in my apartment.
1. That's Sidas and me. I didn't think that it could be really challenging to take a picture with your dog. He was more interested in other things. 2. Back in Vilnius again. So on Sunday my boyfriend and I got some sweet stuff to eat. These are cheesecakes with éclairs, Belgian waffles and Lithuanian dessert called "Tinginys", in English it would called "sluggard". I ate only one piece of that cheesecake and I decided to eat my Belgian waffle in the morning with my coffee.