How are you doing? It seems that I wrote my last blog post ages ago, but time is passing really fast and I feel that it's not enough hours in a day to do everything I need. So my blog was a little bit abandoned. But finally here is my new blog post!
Recently I got a package from Essence. It contained amazing stuff, so I tried a lot of new things from this brand. It's a well-known brand from Germany. I think it's popular everywhere in Europe now. Anyway, I liked almost everything, there was only a couple of products that didn't worked for me, but today's post includes probably my favorite ones, cause I love pastel and nude colours very much and also these products that I will mention here is great. They also are super affordable, if you are new in this makeup word, this brand suggest a lot of great products that are perfect to build your starter makeup collection.
Below you can find more photos, all information and my opinion about each product. Hope you'll like it. Let me know what you think!=)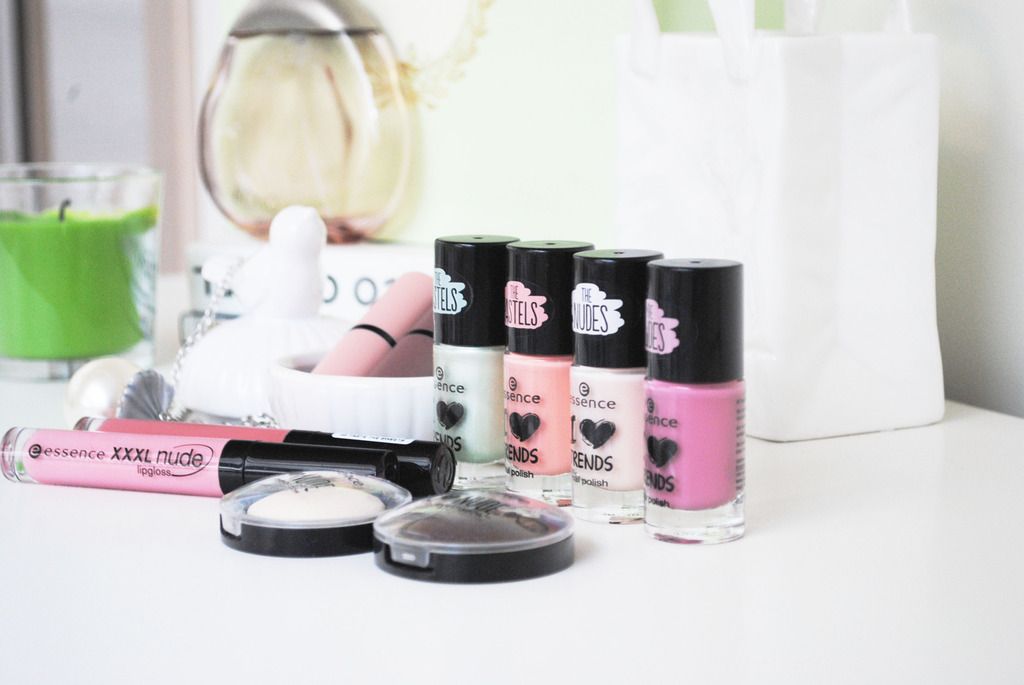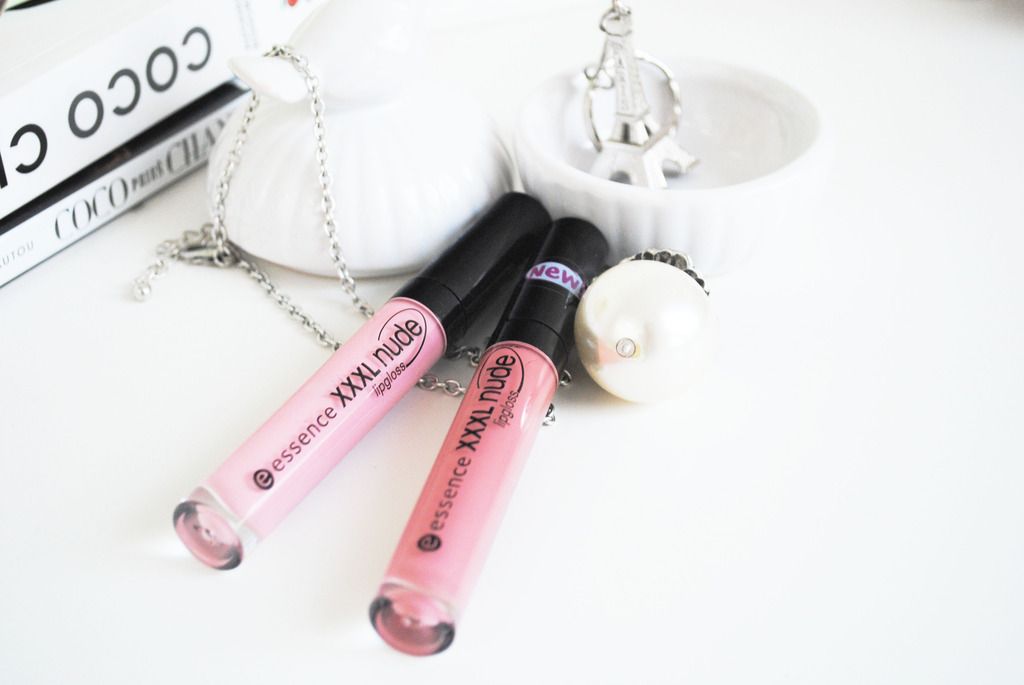 | Essence XXXL nude lip-gloss in 01 Shy Beauty and 03 Taste the Sweets |
These lip-glosses are from the #ilovenude trend edition. I'm happy about these glosses, they are not sticky, and the pigmentation for natural looking lip-glosses is great. I love the applicator of it, it's very soft, comfortable and easy to use. 01 She Beauty is a little bit to light for me, I have a pale skin and with this lip-gloss I look even paler, but it still doesn't look very bad. Both of these shades are perfect for spring and summer, when you want fresh, natural look.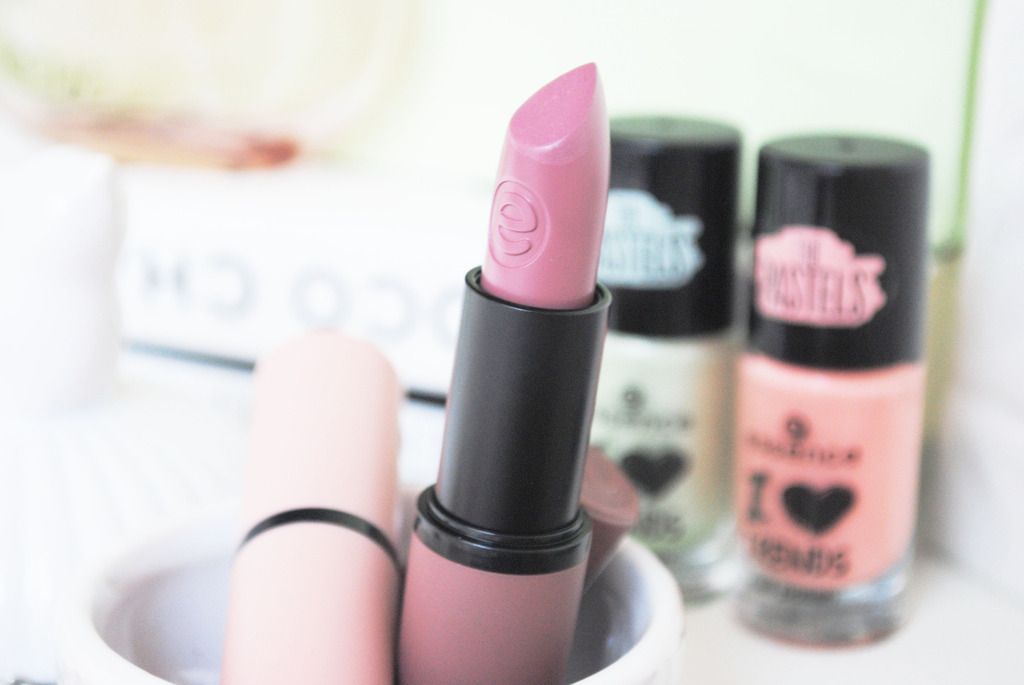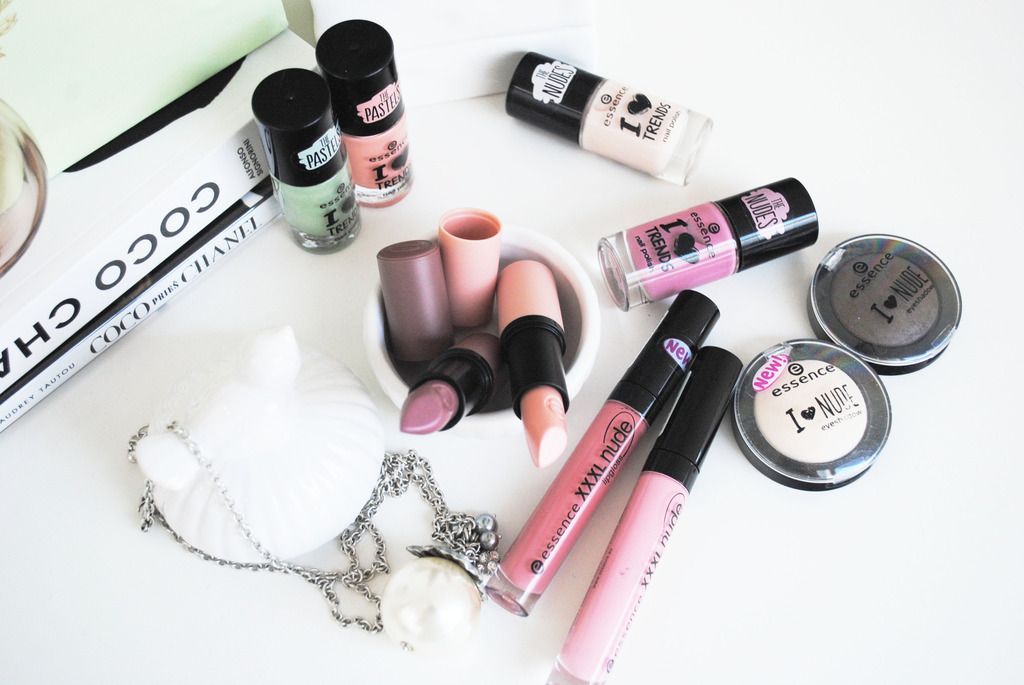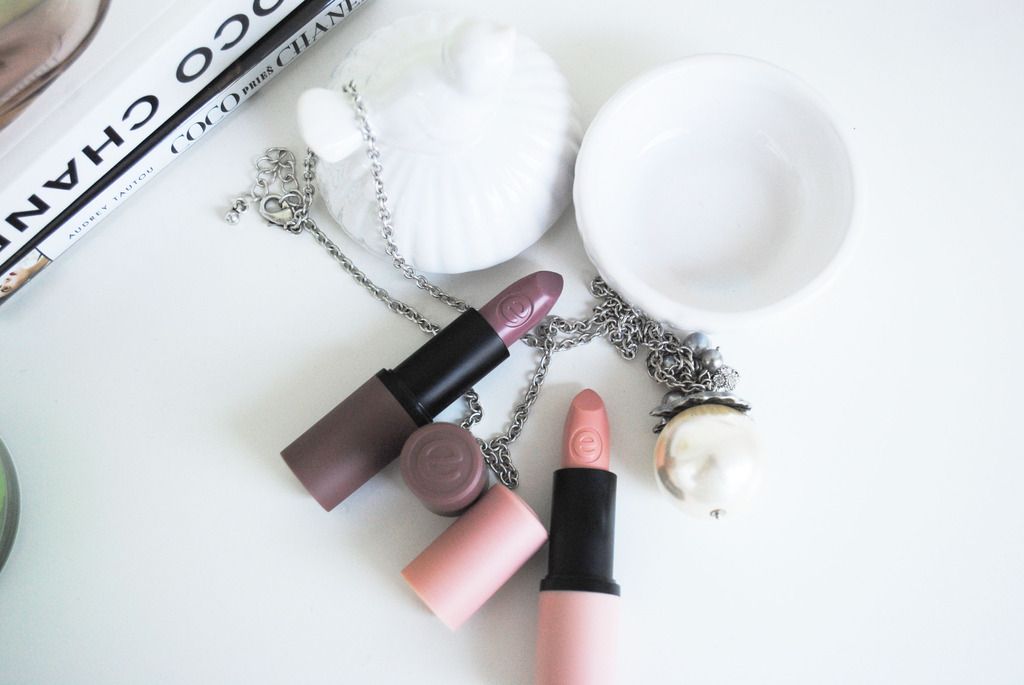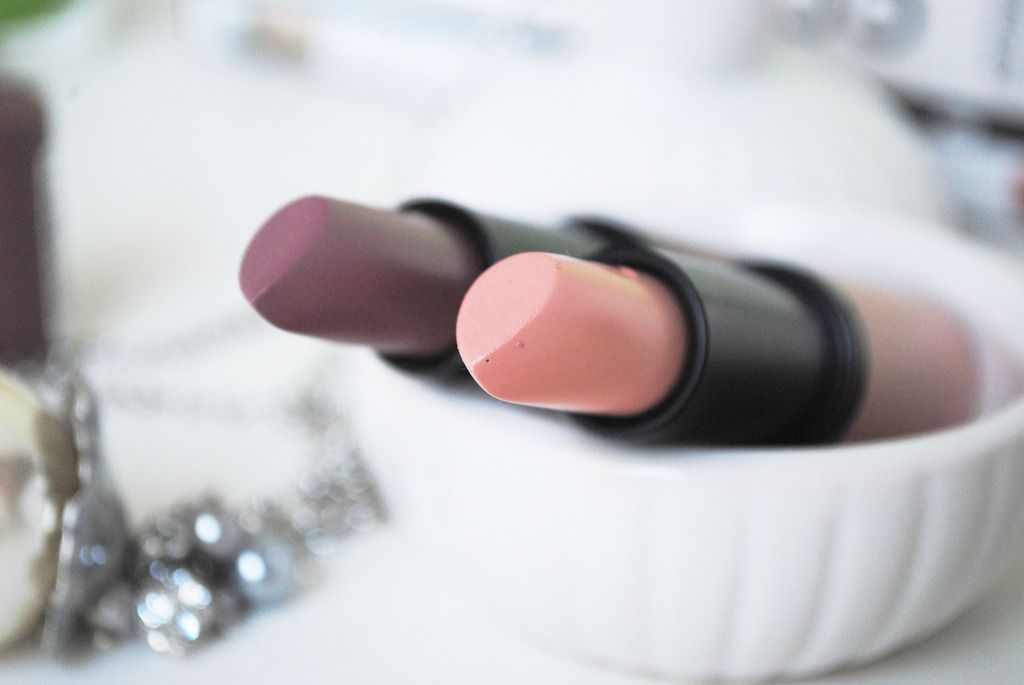 |Essence long-lasting nude lipstick in 01 Wearing only a smile and 03 Come Naturally |
Again, these lipsticks are also from
#ilovenude trend edition. I love both shades. 01 Wearing only a smile is also a little bit light, but it looks ok on me. My favorite one is 03 Come Naturally - this is a true

cool-toned mauve

shade. This shade is a very trendy 'Kylie Jenner' shade.
The lipsticks are

super creamy

, moisturising and they are very comfortable to wear.

Pigmentation and longevity is great

, they last for about 3 hours on the lips before I have to reapply, but it doesn't bother me, cause they are very easy to use.
| Essence I love nude eye shadow in 01 Vanilla Sugar and 06 Coffee bean |
These are the baked eye shadows in the #ilovenude trend edition. These single eye shadows are great for everyday natural makeup look. I use
01 Vanilla Sugar as a highlighter in my inner corners and under my brow bone. I love to use both of these colours together, it's a perfect combination for everyday look. I have no complaints about the pigmentation. The quality for the price is very nice. Also they blend vey easily and doesn't crease on my eyelids. And it is perfect, because my eyelids tend to become oilier during the day.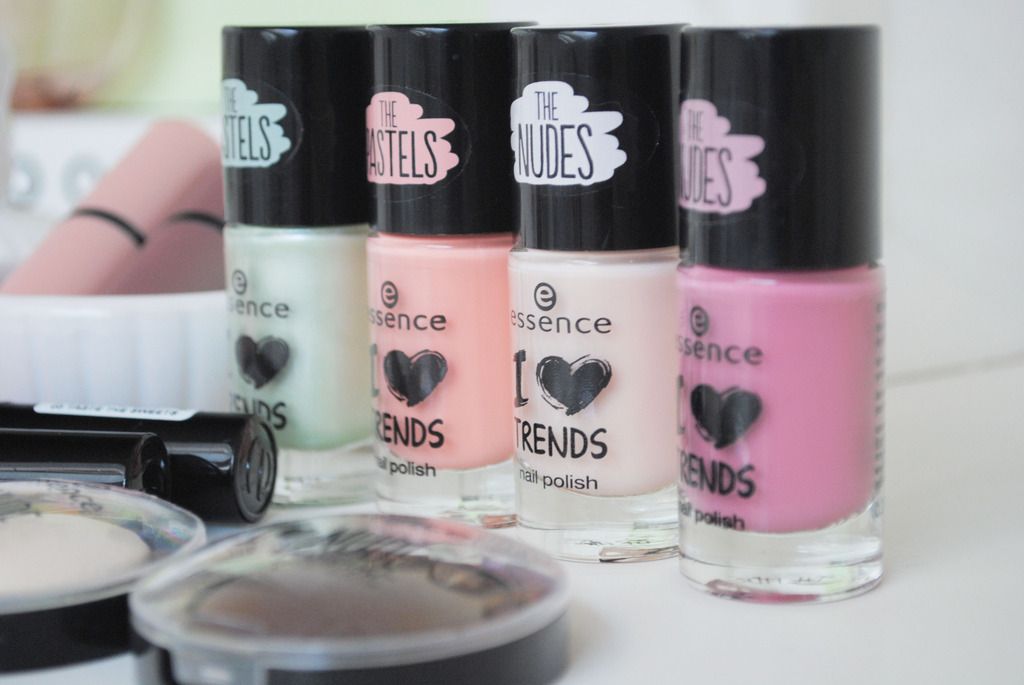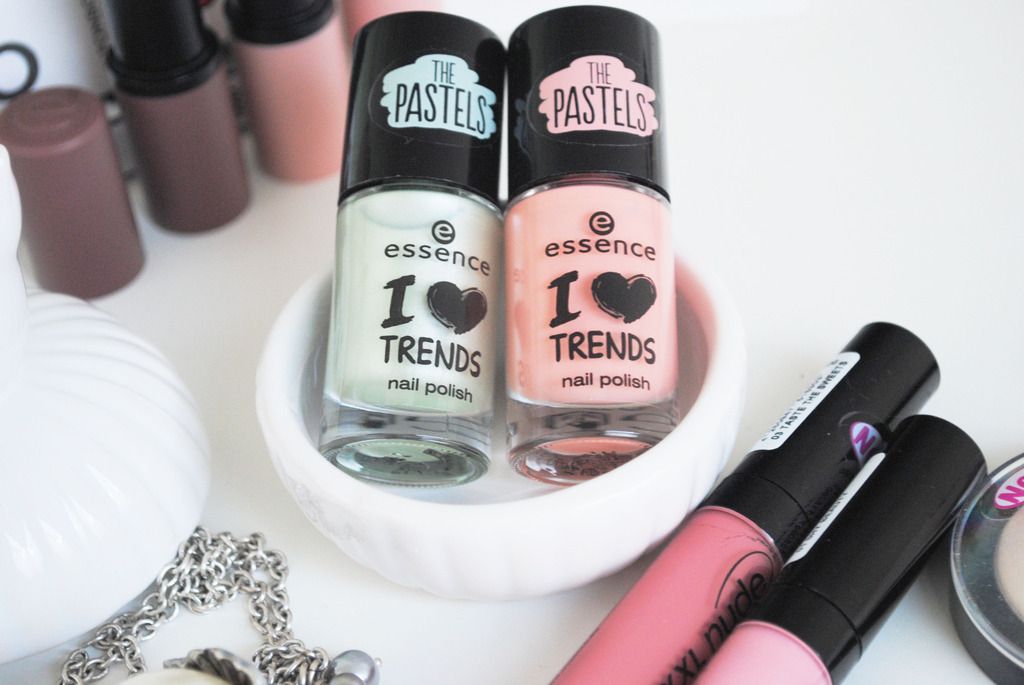 | Essence I love TRENDS nail polish the Nudes in 05 pure soul and 07 hope for love |
As I said I love nude colours very much, so when I saw these nail polishes I was super excited and painted my nails immediately. They glide on nails really nicely, there was no
streakiness going on when I was applying it. You need two coats and you good to go, although
05 pure soul
requires three coats and it doesn't cover your nail completely, I mean it's see-through and with white nail polishes, I like them to be
opaque. So that was the only downside, but my absolute favorite one is
07 hope for love shade.
| Essence I love TRENDS nail polish the Pastels in 01 So lucky and 03 I'm so fluffy |
I also wanted to include two other nail polishes, which are from #ilovepastels collection. I really love the colours and it looks like a simple nail polish, but on the nails it becomes matte. These colours are perfect for spring and summer. I need to apply two coats and it stays on my nails for about a week, but at the end of the week it starts to chip. In my opinion the longevity of these polishes is really great and I love that it is matte.