Hi lovelies,
Since I was a teenager I loved Garnier skincare products very much. Don't get me wrong, I still love this brand, but I'm becoming a grown up women, my skin is changing, now it needs more care than ever. You know, with age your skin is also ageing up. So, for this reason now I tend to buy products from other brands, but when I spot new products from Garnier, I like to try them. Some time ago I spotted this new Garnier Miracle Skin Cream for your face and eyes. I couldn't resist and decided to buy this set when I was Berlin. I was using everything for some time now, so I can tell my genuine opinion about these products.
I also think that skincare is the most important thing, it's more important than makeup. If you have beautiful skin and take care of her every day, then you don't need to wear that much makeup.
Anyway, let's get to business, here is my little review! Hope you'll like it! Tell me if you have tried these products which I mentioned here!?=)
| Garnier Miracle Skin cream |
It's an anti-aging face cream with self-adjusting formula. It definitely has a perfecting effect on the skin.
The product comes out like a white moisturizer that transforms into a skin-color once you start to blend it. It has a little bit of coverage, but it's enough for me. I do have a little bit of redness on my cheeks and this cream covers it very well. It's perfect for those days then you don't want to wear a lot of makeup, but still want your skin to look nice. It's also very moisturizing and my skin feels moisturized all day when I wear this. The only thing that I don't like about this product is the smell. It has a very strong, heavy scent. I also don't know if it helps with wrinkles, but my skin definitely looks younger and healthier.
| Garnier Miracle Eye cream |
This is also the anti-ageing eye cream that transforms, awakens and illuminates the look of skin around the eyes. This eye cream works very well as a concealer. It helps me with those blue circles under my eyes and makes me look more awake.
The cream smooths on really easily, doesn't feel greasy and absorbs well. It's not my favorite eye cream, I like using those simple ones, without the color, cause when I do my makeup I like to use other products to conceal my under eye area. But this product is budget friendly and you can get two products in one tube – an eye cream and a concealer. So it's definitely worth buying.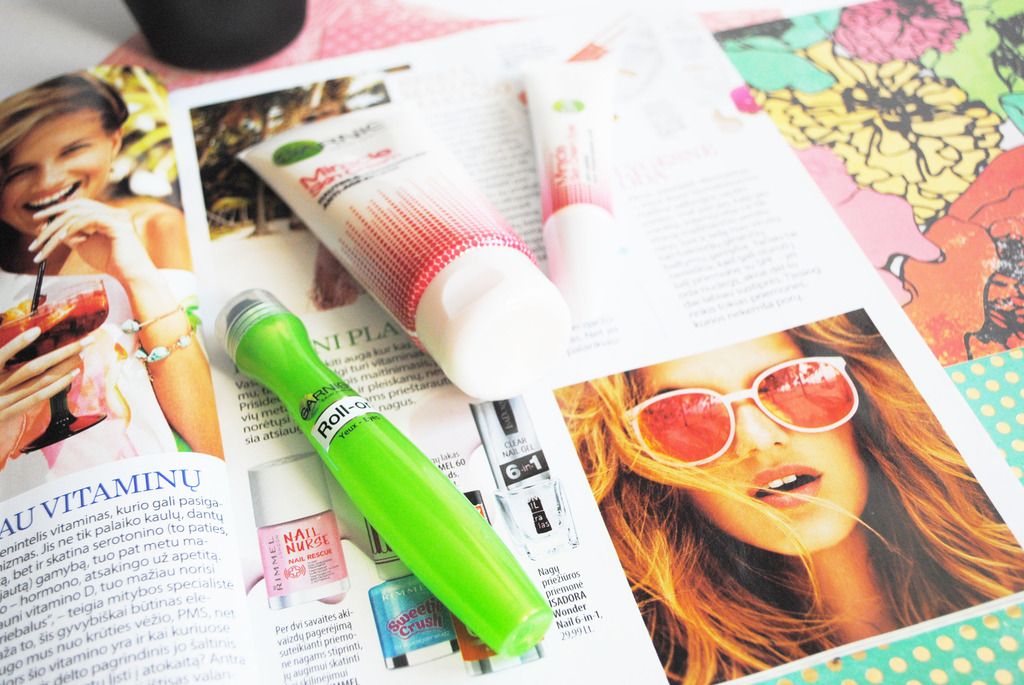 | Youthful Radiance Caffeine Eye Roll-on |
It's a perfect solution against tired looking eyes. It has a
refreshing effect and visibly reduces the appearance of bags beneath the eyes.

It's a clear gel like liquid. I like the cooling effect of the metallic roller ball, which feels really nice when I use this in the morning. It doesn't help me to fight with the under eye circles, but it definitely help me with the puffiness. Overall, I like this product a lot and it's not the first time I'm using it, that's why I included it in this mini review.=)